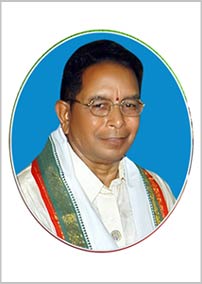 Late Sri Gudivada Ramachandra Rao
Great personalities engage themselves in a smooth metamorphosis as they move from success in one field towards success in various other fields. The success-filled lifestyle of Sri Gudivada Ramachandra Rao, our Founder Chairman, best exemplifies this fact. The saga of success began 60 years ago when he ventured into the Rice Mill Industry and carved a niche for himself as an Industrialist par Excellence. His successful journey elevated him to the post of President, Krishna District Rice Miller's Association, where he served for 30 years. He was also the Past President of Lion's Club, MTM.
Philanthropist by nature and an educationist to the core, right from his college days, he has been nurturing a dream of establishing an educational institute in the cause of rural youth. His tryst with destiny resulted in diversifying his activities to the educational field as a service to the rural area. Thus, SVIET, his long-cherished brain-child, was born.
Sri Ramachandra Rao is a 'Fully human, Fully alive' personality with a rich blend of visionary ideals, missionary zeal, a proactive approach to men and matters, the Midas touch, and a human face. He possesses a rare sense of educational enthusiasm, financial wisdom, and a practical plan of action. Under his sagacious guidance and vision, SVIET is set to reach the pinnacle of success, creating new avenues and crossing new vistas.