Library
Librarian: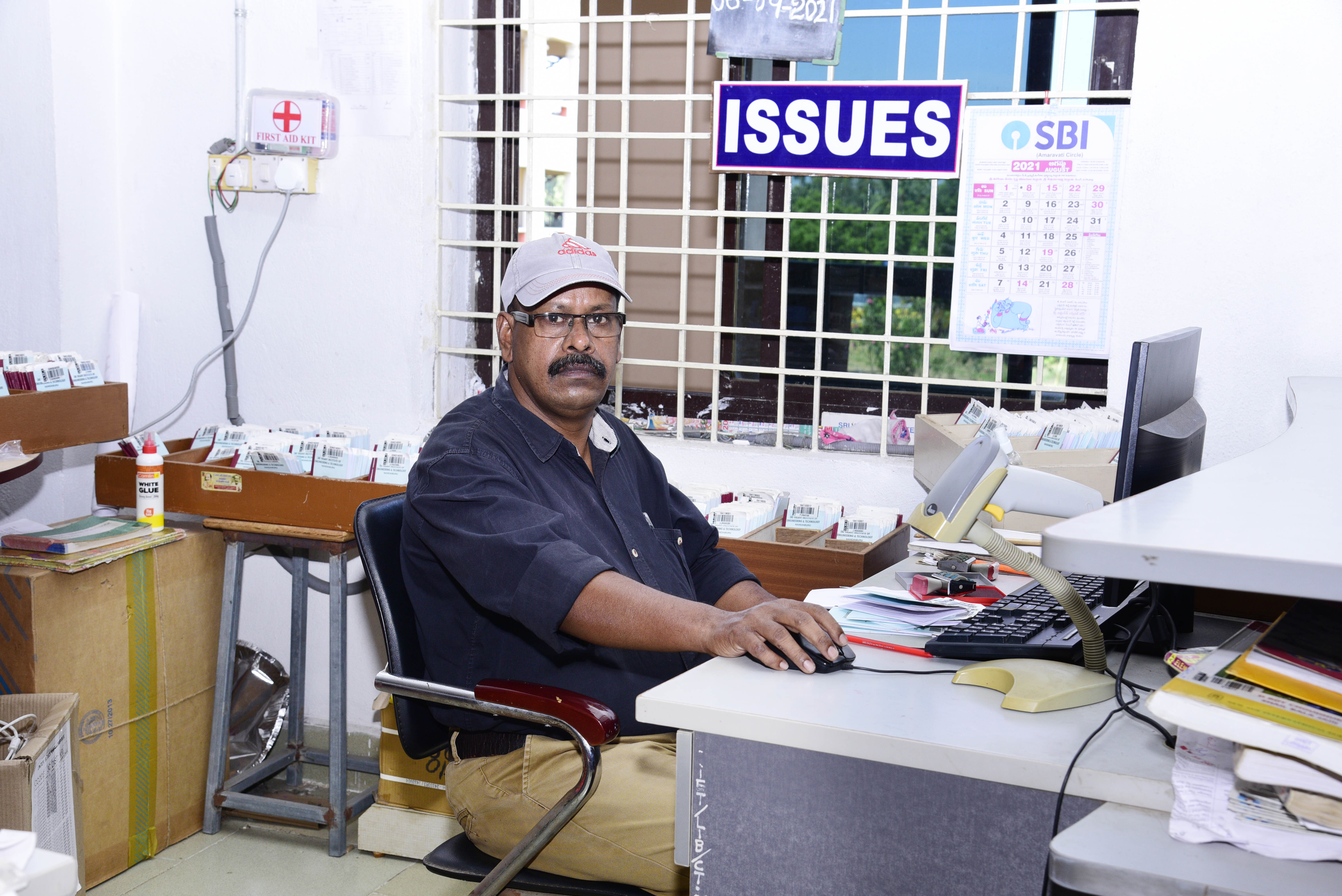 P.Venkateswara Rao
M.A, M.L.I.S.c, PGD,LAN(M.Phil)
Assistant Librarian:
S.Naga Malleswari
M.L.I.S.c
About Library:
The Central Library, SVIET is one amongst major technological libraries in the area of engineering and technology.
The Library was established in 2008.
Located in the western wing of the block, the central library has a floor area of more than 450 sq. mts.
The Library is well equipped with modern facilities and resources (print and electronic) in the forms of
1. Books - 22252
2. Titles - 2972
3. Rare Books - 43
4. Journals- 38
5. Magazines-12
6. Project Reports- 579
7. CDROMs, DVD-ROM - 1317
8. Previous question papers
9. SC & ST Book Bank - 1379

Our library operations have been computerized using ecap software package. In addition to the central library, Every department has its own departmental library.
The Library has high speed Internet facility for 20 Systems with 50 Mbps ACT Internet.
All the Student and Staff Members can use the facility on Library working hours.
All The E-Journals and articles can be downloaded in the Browsing Centre. For using the Browsing service.
It has also developed a full-fledged Digital Library equipped with necessary modem equipment in order to provide various digital mode Library services. NPTEL facility (National Programme on Technology Enhanced Learning) to access video lectures Digital Library section of the Central Library has developed an institutional digital repository using open source software D Space, which preserve the institute's intellectual output for campus wide access and digital preservation for the posterity. The central library is opened from 8.00 A.M. to 8.00 P.M on all working days. Reprography facilities are available in the central library for the benefit of the students. The digital Library section has 20 exclusive systems with internet connectivity; the students can browse the internet and can also download useful information, during their free time.
Library & Information Centre provides uncompromising information and intellectual requirements to its students and faculty with an user-friendly approach. It offers a fully integrated and dynamic environment for conducting academic study. Multiple copies ensure that resources are easily available in Reference Section and Stock Section as well. Beside this, it provides Lending of books and journal back volumes, reservation of books, photocopying, CD/DVD and Internet services, etc.
"An apple a day keeps the doctor away, Visit library a day keeps your mind fresh and update."
Library Timings:
Working Days : 8.00 a.m. to 8.00 p.m.
Circulation Section : 9.00 a.m. to 6.00 p.m.
Library Services:
Text Books
Periodicals - Journals & Magazines
News Papers
Circulation / Book Lending
Book Bank Service
Digital Library - (E-Journals & NPTEL Video Lectures)
Reprography Service(Photo copying Service)
Reference Service
Old Question Papers
Project Reports
New Arrivals
Library Rules & Regulations::
1. Silence to be maintained.
2. No discussion permitted inside the library.
3. Registration should be done to become a library member prior to using the library resources.
4. No personal belongings allowed inside the library.
5. Textbooks, printed materials and issued books are not allowed to be taken inside the library.
6. Using Cellular phones and audio instruments with or without speaker or headphone is strictly prohibited in the library premises.
7. Enter your name and Sign in the register kept at the entrance counter before entering library.
8. Show the books and other materials which are being taken out of the library to the staff at the entrance counter.
9. The librarian may recall any book from any member at any time and the member shall return the same immediately.
10. Library borrower cards are not transferable. The borrower is responsible for the books borrowed on his/her card.
11. Refreshment of any kind shall not be taken anywhere in the library premises.
12. The Library owns latest Canon Xerox machine for Photo Copying purpose of the Library Members.
Admission to Library:
Students are allowed to library only on production of their authorized/valid Identity Cards.
Working Hours of the Library:
On all working days 8.00 am to 8.00 pm.
Circulation Issue System:
Books will be issued on presentation of the ID card. Students are instructed to check the books while borrowing and they will be responsible for any type of damage or mutilation noticed at the time of return. Faculty can borrow 8-10 books for semester. Students can borrow 6 books and they renew those books once in every 15 days.
Overdue Charges:
Books will be issued to the students for 15 days only. In the (last)first page slip is pasted and stamped mentioning the due date and the fine will be charged @ Re.1 per day per book from the due date till the book is returned to library.
Book Lost:
If the books are lost, then the borrower should pay the cost of book.
Care of Library Books:
Students are required to handle the books/ Journal very carefully; marking with pencil; writing or highlighting, tearing the pages or mutilating the same in any other way will be viewed very seriously. In such case reader shall be held responsible unless these are brought to the notice of the library staff at the time of issue.
Book Bank:
Library is having about 1379 books in SC/ST book bank scheme. SC/ST students are entitles to borrow 6 books from book bank in a semester.
Reference section:
This section has Encyclopedia, dictionaries, Text books reference books etc. which are only available for reference. User can make use of these resources.
Journal Section:
In this section journal, general magazines and News letter are available. The latest issues are displayed on display rack and other previous issues are arranged in the drawer. Bound volumes of periodicals are arranged in rack alphabetically and are meant only for reference within the library.
LIBRARY COLLECTION:
| | | |
| --- | --- | --- |
| 1 | Books | 22252 |
| 2 | Issue Books | 19111 |
| 3 | Rare Books | 19111 |
| 4 | Titles | 2972 |
| 5 | Students Book Bank | 1379 |
| 6 | Project Reports | 579 |
| 7 | CDs & DVDs | 1317 |
| 8 | Periodicals- Hard Copies(Journals & Magazines) | 50 |
| 9 | Online Databases - (E-Journals) ASTM Digital Library, J-gate | 369 |
| 10 | J-Gate Resources | 7900 |
| 11 | Digital Library 20 Systems with 50 MBPS Speed ACT Internet | |
| 12 | NPTEL Lessons through LAN | 24887 |
| 13 | Reprographic Facility are available | |
| 14 | Library Automated (ECAP) with Barcode | |
| 15 | Back Volumes | 1167 |
| 16 | DELNET Membership (Inter Library Loan, Union Catalogue) | |
| 17 | NDigital e-journals and e-books | 907 |